Just two years ago, any company name hinting at involvement in cannabis in any way would see their stock skyrocket. If the company was private, then they would consider doing an IPO. It was another brainless speculative frenzy, such as crypto-currencies, or "fake beef" as in 'Beyond Meat.'
We at Dohmen Capital pointed out all the factors that would terminate this boom in our various services for active investors and traders. First of all, cannabis is still considered an illegal drug by Federal Law. A crackdown could occur at any time. Therefore, the Canadian cannabis companies had a much bigger boom than the ones registered in the U.S. The real problem is excess supply.
We pointed out that marijuana (source of cannabis) is a weed and would grow almost anywhere on a plot of land the growers could just lease.
There are many obstacles to firms in that business because of the legal status. They have trouble leasing offices, warehouse, production space, or even opening bank accounts. However, in a frenzy, such factors are easily ignored or the mention of these obstacles are even criticized.
It's just like bitcoin, which we warned against, but the crypto-bulls are still waiting for it to go to $100,000. Instead, bitcoin may be on its way to eventual oblivion. We pointed out a few simple facts about speculating in bitcoin: you exchange good U.S. dollars, which can buy you anything you want, for a computer entry, which is very difficult if not impossible to spend.
Furthermore, if your computer entry disappears, your money (ie: perceived value of the crypto) disappears, as has happened in a number of the 2000 crypto-scams that popped up the past few years like mushrooms in a moist cave. In one case, the founder of the crypto-currency was the only one who had the password for the system, and he died. Gullible speculators lost everything in that one and numerous other crypto-currencies that simply disappeared.
Getting back to cannabis, let's look at the charts of some of the most popular stocks in this industry. Here is the popular Canopy Growth (CGC), which may eventually lose the "growth" part of its name. The stock is currently down 62% from the peak: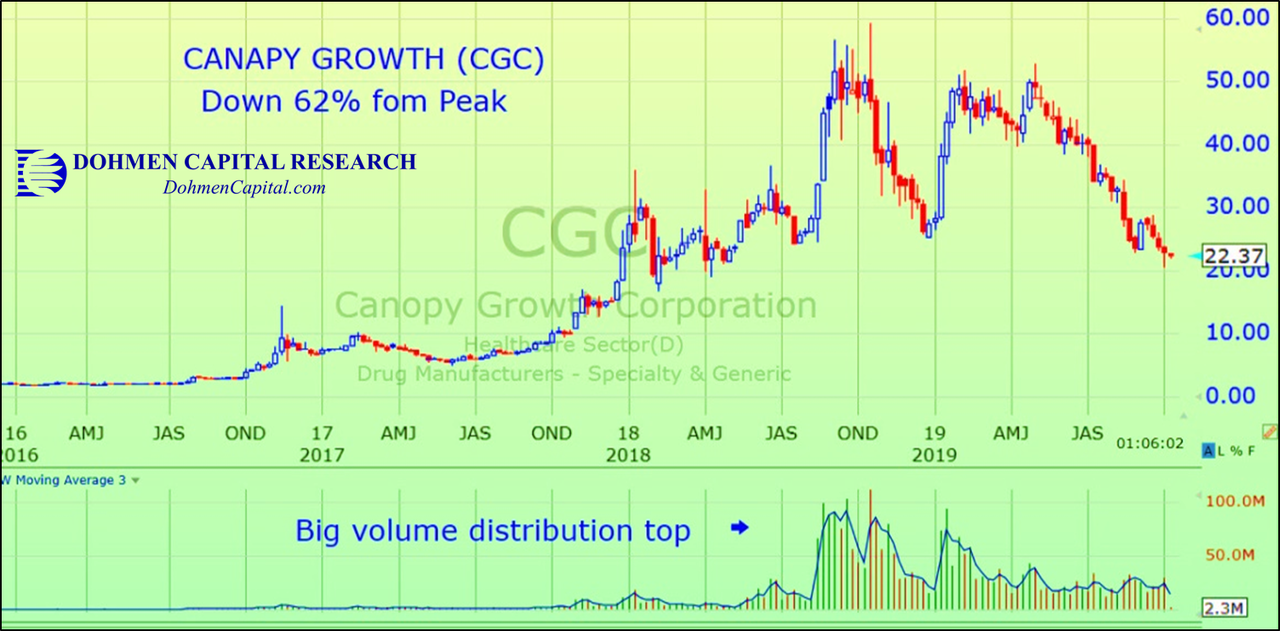 A formerly strong company, Constellation Brands (STZ), which sells top brands of alcoholic beverages and has done extremely well since 2012, decided to get into the cannabis business. STZ bought a 38% stake in the company above, Canopy Growth (CGC), a previous high flyer in the cannabis business, for a hefty $4 billion in 2018.
Institutions then bought STZ because this was a good way to participate in the cannabis frenzy without openly investing in it. We called the investment a big mistake. Now that stock has plunged.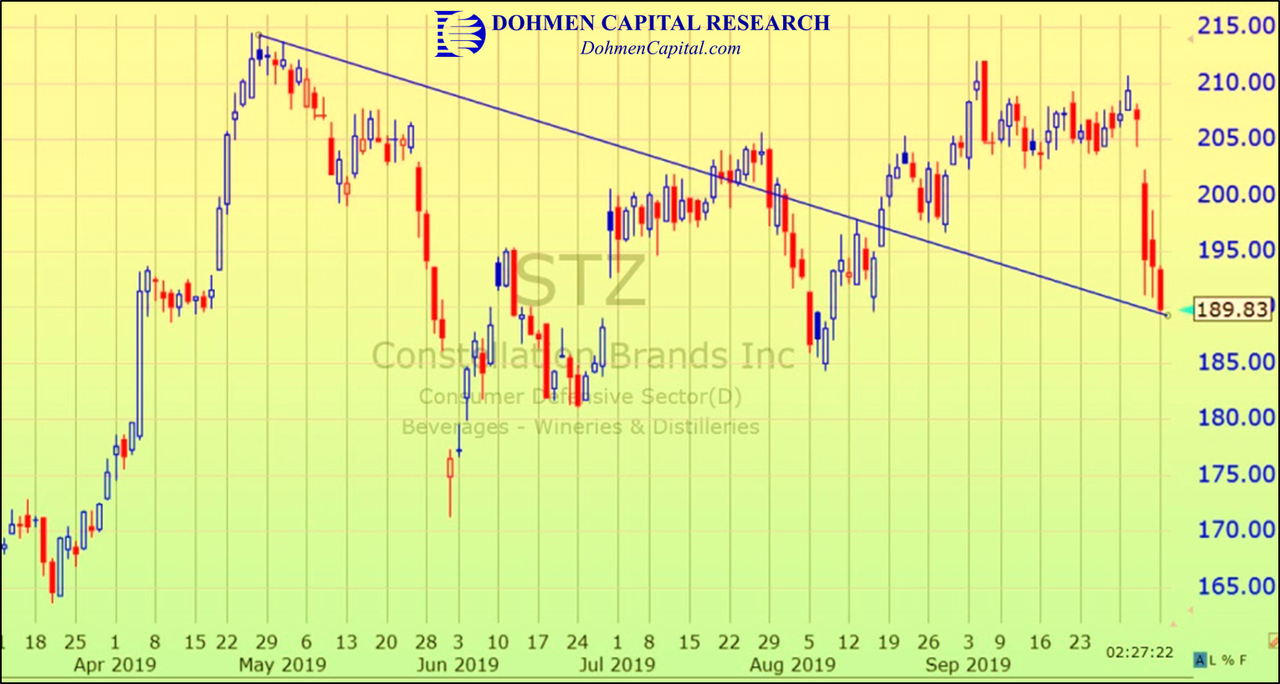 You see, CEO's actions are usually wrong at the tops because they also use emotions instead of clear thinking. They are very much like the typical speculator; impatient to make a killing in the market.
So far, the recognized accounting loss of STZ is only $484 million. We fully expect it to go over $3 billion. Consider what that will do for the stock of STZ.
Over the decades, there is a long list of huge acquisitions made by large firms at a sector's top, which leads to billions of dollars in losses several years later.
Tilray (TLRY) is another former cannabis high flyer from Canada. According to investingdaily.com:
Tilray makes a variety of drug treatments for medical uses. These products are based on tetrahydrocannabinol (THC) and cannabinoid (CBD) compounds, which are extracted from marijuana.

Tilray makes THC-dominant, CBD-dominant and THC/CBD balanced treatments. The THC and CBD potencies are directly reflected in the company's products, which can be administered or consumed via several methods. Tilray also sells accessories, such as vaping tools.
The stock is down 92% from its peak of $300 in late 2018. The founder was apparently a billionaire…for one or two days. Now the stock is at $24.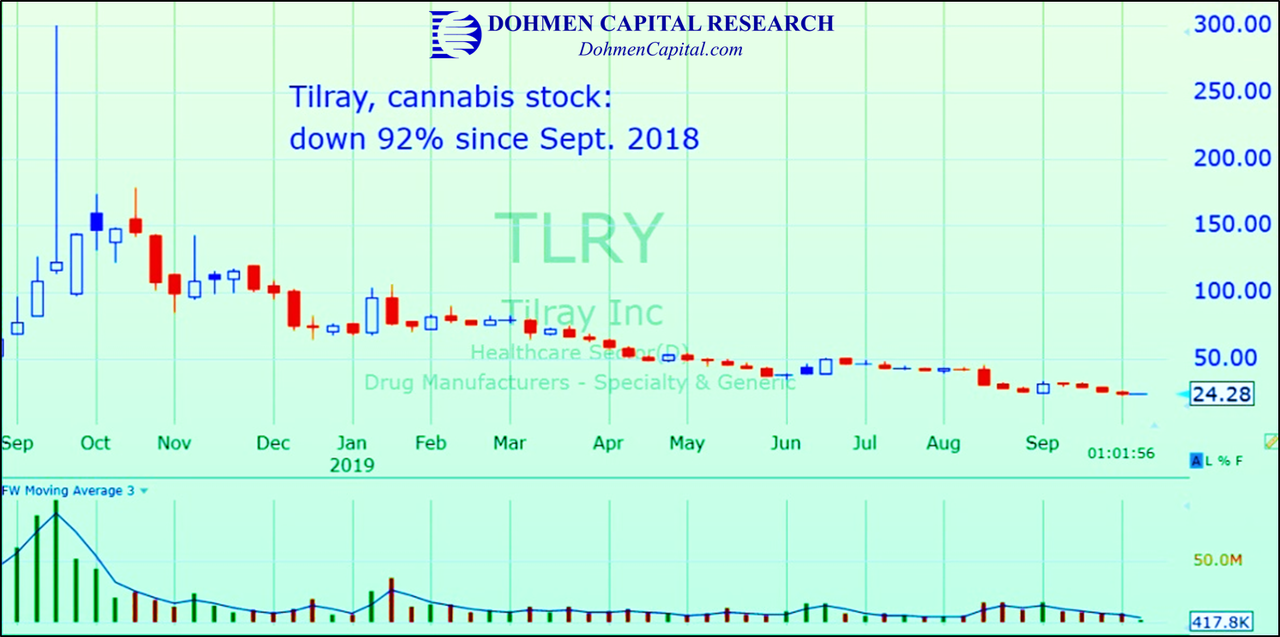 After announcing a partnership with the big medical firm, Novartis, in mid-December 2018, the stock climbed higher. Then, as the stock approached its lockup expiration date of January 15, 2019, it popped 48% in just 5 days. That pop was reversed in the next 5 days as many investors who held the stock before the IPO dumped their shares.
Another favorite Canadian cannabis firm has been Aurora Cannabis (ACB). The chart shows the 69% plunge since late 2018.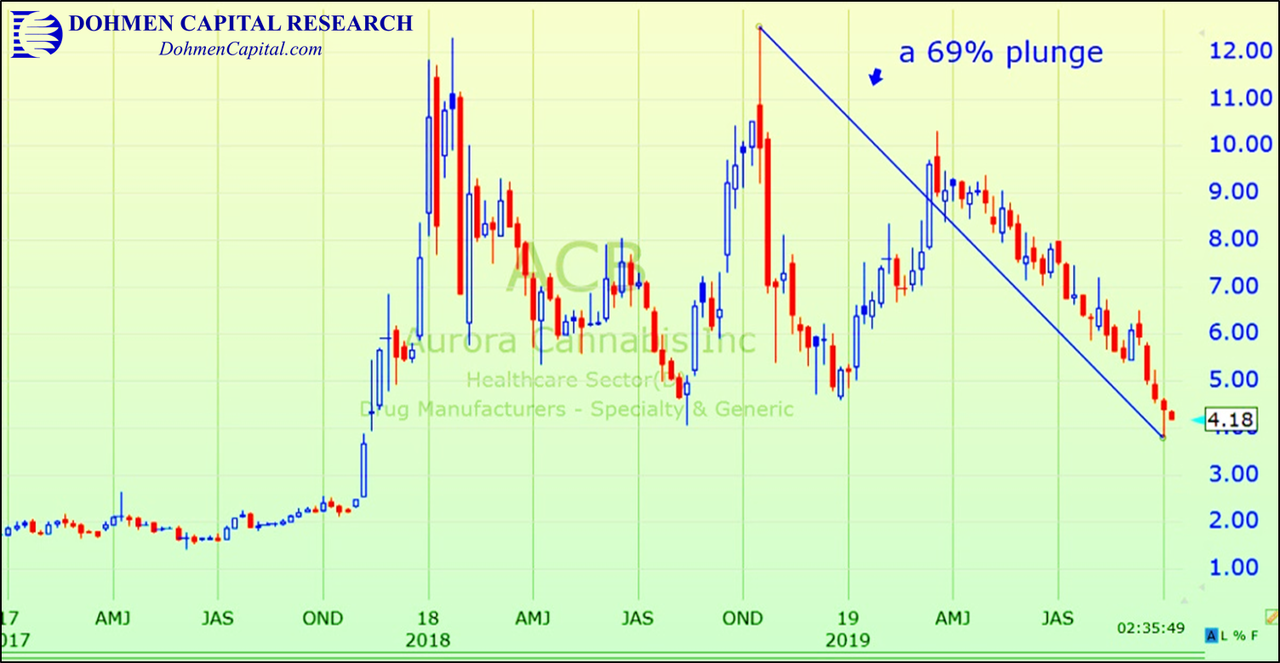 Earlier we made the comparison between the speculation in cannabis to that seen in Bitcoin. Here is the chart of the Grayscale Bitcoin Trust (GBTC). It is down 75% from the peak in late 2017.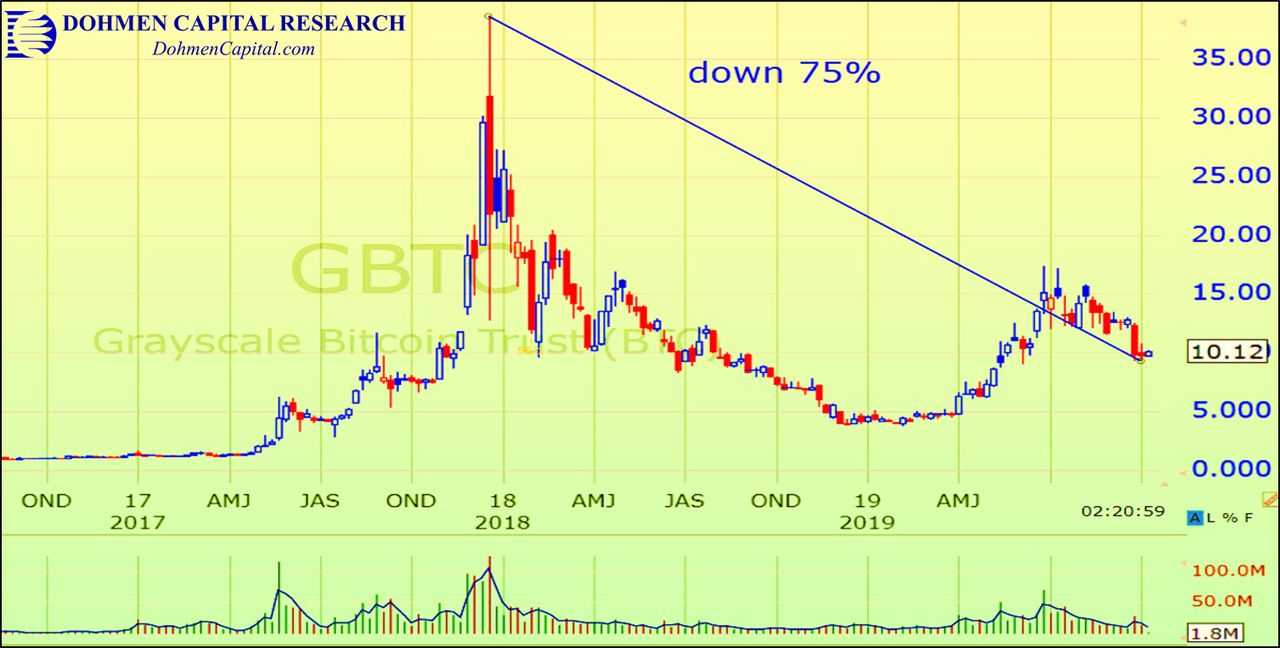 You can see the same high volume "distribution top" in GBTC in late 2017 as seen in Cannabis stocks over the past several months. Distribution is the term used when the big insiders sell into a buying frenzy whipped up in order to let the insiders sell everything at high prices…and then sell short. The individual speculator is the proverbial "bagholder" all the way down.
We have commented over the past 18 months that bitcoin (and cannabis) speculation is a good indication of speculative sentiment in the markets. Therefore, their moves lead the rest of the stock market.
Judging by the big declines shown above, stock market investors in a wide range of stocks or ETFs should be careful about being bullish at this time.
It pays not to be part of the unthinking herd. Our goal for 42 years in the business has been to be in the "Winning Minority." And that has allowed our valued clients to profit from all the big bear markets and plunges during that time.
You can read more about our current insights on this fragile market, along with the numerous factors that will impact stocks in October, in our latest Wellington Letter. Learn more at DohmenCapital.com
Wishing you good health and prosperous investing,
Bert Dohmen, Founder
Dohmen Capital Research
Dohmen Strategies, LLC